Grafton Juniors
Years 1 to 4 Boys, Girls and Mixed Teams
The season starts on the first Saturday after Labour weekend and finishes on the last Saturday in March breaking for approximately 8 weeks over the Christmas school holidays.
In the 1st half of the season, teams play against other Grafton teams and in the 2nd half of the season teams will play against other teams from Grafton, Parnell and University Cricket Clubs in a combined Eastern Districts Competition.
Pitch Layout
See the diagram on the right for our pitch layout. Designers welcome to send improved versions to the Club Manager :)
Season Dates
Pre-Christmas: Starts Saturday 30 October at Cox's Bay Reserve (or Friday 29 October)
Post-Christmas: Starts Saturday 12 February at Cox's Bay Reserve (or Friday 11 February)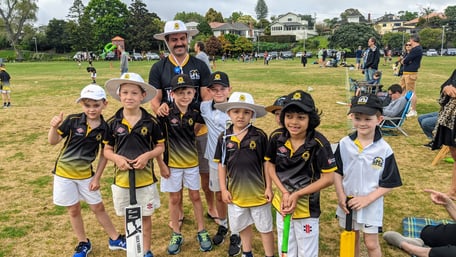 Playing age
For boys and girls who are in Year 1-4 at school at the start of the cricket season.
Practices and practice time
Practice start times and the length of practices vary per team but are held at Cox's Bay Reserve on Thursday's between 4 and 6 pm. Start and duration is dependant on coach availability and will be confirmed by the team coach and manager before the season starts.
Coaching
The Club is reliant on volunteer support to coach and manage these teams. Team coach(es) take team practices and are responsible for the gear bag and game set up on Saturday mornings. There are Grafton resources on hand to help you if you're new to coaching and are happy to answer any questions you may have. All of our coaches must complete the free Foundation Course and be police vetted by NZC. Contact the Grafton office for more information.
Games
16 over games run for 90 minutes.
All pre-Christmas games are Grafton vs Grafton and start at 8.30 am at Cox's Bay Reserve. A small number of games may be scheduled for a Friday evening at Cox's Bay. These usually commence at 4.45 pm.
All post-Christmas games are against teams from Grafton, Parnell & Auckland University cricket clubs.
Teams
Teams of mostly 8 players are put together by our Grade Coordinators. If you have any preferences, i.e friends you want to play with, schools groups or girls only teams, please use the registration comments field and our Grade Coordinators will do their best to accommodate any preferences.
Rules and Conditions of Play
Please refer to the EDCA Playing Conditions [2020 version]
16 over matches
4 overs batting pairs
Grafton gear bags
All playing and coaching gear required will be supplied to the team coach at the start of the season, please help the team look after it.
Grafton provides team gear bags including playing and coaching gear to each team at the start of the season. We are investing heavily in upgrading this equipment to ensure each team, and each player has the best equipment to make their cricket experience the best it can be. If more gear is needed, please contact the Club.
Children are welcome to bring their own gear but do remember to name it, a phone number also improves the chance of the kit or clothing making its way home.
Grafton playing clothing and kit
Grafton Lions playing kit and a full range of cricket gear can be purchased online or in-store from our friends at Cricket Express Mt Eden.
Be sure to join the MVP Loyalty Programme and make sure you mention Grafton Cricket Club.
Cancellations
Cancellations will be posted on the Grafton website and on the Grafton Junior Facebook Group by 7:30 am on a Saturday morning. See our Cancellations page.