Grafton Girls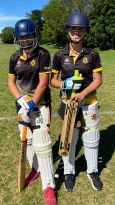 Girl's and Women's cricket options
Girls can play with the boys in mixed or in girls-only competitions in the cubs, junior and youth grades. The Grafton Cubs is a mixed training programme, our Junior Cricket competitions are for girls and boys playing in mixed teams (boys and girls). As the girls get older and start playing in Auckland Cricket competitions girls can still choose between playing in the mixed competitions with the boys, unfortunately often referred to as "Boys grades", or in girls-only grades.
If you have any questions regarding girls' cricket at Grafton, please contact our Girls Coordinator Frances Sweetman Girls Coordinator
Competition options
Under 11 Soft Ball Smash (Girls only - softball over 2x half seasons (pre and post-Christmas)

Under 13 T20 Smash (Girls only - hardball over a full season, term 4 and term 1)

Under 16 T20 Smash (Girls only - hardball over a full season, term 4 and term 1)

Premier Reserves (Senior cricket for our premier women and girls)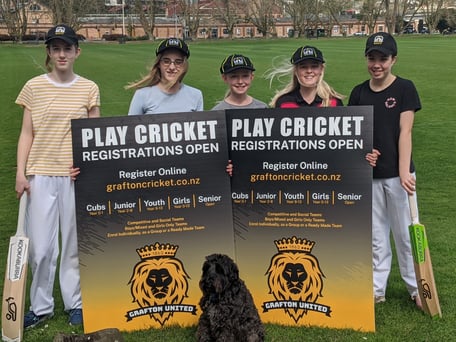 Season Calendar
A typical cricket season looks a lot like this:
First game of the Season - The first weekend after Labour Day

Last game pre-Christmas - The last weekend before Christmas

First game post-Christmas - The first weekend after Waitangi Day

Last game of the season - The second last weekend in March
See Key Season Dates for this season's information.
Pitch Length
U11 - 16m stump to stump

U13 - 18m stump to stump

U16 - Full length

Premier Reserves - Full length
Playing conditions
Playing Conditions are available on the Auckland Cricket website here
ACA Softball Grades: Girls U11
6-a-side teams playing games of 12 overs per side taking approximately 75 minutes.
There will be two separate half-season competitions with games starting at 8 AM on Saturday mornings.
Note. There are Friday evening Softball competitions that we can enter teams into. Games are played at home and away starting at 5 PM. Due to the logistics of getting across town, we have not entered teams in these competitions.
​ACA Hardball Grades: Girls U13 / U16
All grades play on Saturday mornings starting at 9:30 AM and finishing by midday.
U11 and U13 teams are 8-a-side and U16 are 9-a-side. All games are T20.
Playing age
Players should be Under 11, 13 or 16 on 1 April 2023.
Auckland Cricket has indicated that they will be flexible in granting dispensations so that girls can be in a team with their friends and play at the right level.
Practices
Organised between teams and the club
Grafton gear bags
Grafton provides team gear bags including playing and coaching gear to each team at the start of the season. We are investing heavily in upgrading this equipment to ensure each team, and each player has the best equipment to make their cricket experience the best it can be. If more gear is needed, please contact the Club.
Helmets
The club's policy is that all players must wear a helmet. These are treated as personal items and along with boxes (you need these too) are not supplied in the team gear bag. Players are encouraged to bring their own and make sure it is named. We do have some helmets at the club and if you'd like to use one, please contact us.
Grafton playing clothing and kit
Grafton Lions playing kit and a full range of cricket gear can be purchased online or in-store from our friends at Cricket Express Mt Eden.
Be sure to join the MVP Loyalty Programme and make sure you mention Grafton Cricket Club.
Coaching
The Club is reliant on volunteer support to coach and manage these teams. The team's coach or coaches take team practices, are responsible for the gear bag and help to set up games on Saturday mornings. Don't worry! We have lots of resources to help you if you're new to coaching and are happy to answer any questions you may have.
Cancellations
ACA will cancel all junior and youth morning cricket should there be an Auckland weather advisory from the Metservice advising that it is unsafe to travel to games. This will be communicated through the ACA website or Facebook. ACA encourage Coaches/Managers to contact their opposition if they are unsure whether the game is going ahead. These details will be provided to team coaches ahead of the season.