U10 T20 Smash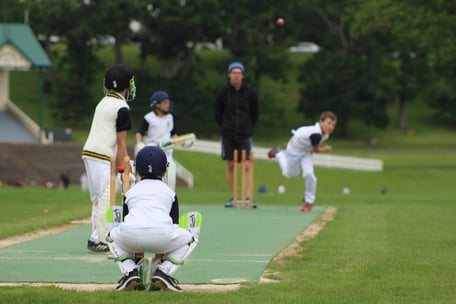 Season dates:
Pre-Christmas: Saturday 2nd November 2019 - Saturday 14th December 2019
Post-Christmas: Saturday 1st February 2020 - Saturday 21st March 2020
Playing age: Players must be U10 on 1st April 2019.
Teams: Maximum 8 players on the field
Playing conditions: 20 overs with a 16m pitch length and maximum 30m boundary. Full playing conditions can be found under downloads > playing conditions.
Hours of play: Saturdays at 9.30am
Practices: As and when parent coaches are available. Teams usually train from 4.30pm on a Thursday at Cox's Bay where Grafton coaches are available for support.
Gear: Playing & coaching gear required will be supplied to the team coach at the start of the season, please help the team look after it. More gear is available as needed, please contact the GUCC Office. For all hardball cricket, the club's policy is that all players must wear a helmet. Helmets and boxes are considered personal items and are not supplied in the team gear bag. Children are welcome to bring their own gear, but please name and phone number it! Games are played with a Kookaburra Commander 142g white.
Clothing: New coloured club shirts are available to buy at Cricket Express but are not compulsory. Playes are welcome to wear their old club shirts.
Coaching: The Club is reliant on volunteer support to coach and manage these teams. The team's coach/es take team practices, are responsible for the gear bag and help to set up games on Saturday mornings. Don't worry! We have lots of resources to help you if you're new to coaching and are happy to answer any questions you may have. All of our coaches must complete the free Advanced Foundation Course and be police vetted by NZC. Contact the office for more information.
Cancellations: ACA will cancel all junior and youth morning cricket should there be an Auckland weather advisory from the Metservice advising that it is unsafe to travel to games. This will be communicated through the ACA website or Facebook. ACA encourage Coaches/Managers to contact their opposition if they are unsure whether the game is going ahead. These details will be provided to team Coaches at the start of the season.
Pre-season coaching: Our Head Junior Coach is running some Introduction to Hardball Courses during the school holidays to help with the transition into this grade. It's a great opportunity for players to learn how to put on their gear, dust off cobwebs before the season and to have a go at bowling and batting in our nets! These are running on the following dates and times, email charlie@graftoncricket.co.nz to book a place: TBC
To register click on 'register as member' at the top right of your screen and follow the on-screen instructions