Scoring and CricHQ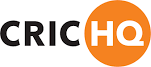 Scoring for Y2-4
For all Y2, Y3 & Y4 grades, matches can be scored on paper score sheets. Each team will have been provided with a number of these score sheets at the start of the season. Scoresheets can also be found under the downloads tab.
The basic scorecard can also be entered on CricHQ e.g. net runs and total wickets for each innings. For more information on how to upload a basic scorecard, see How do I enter a Basic Scorecard
To enter a basic scorecard you will need to be assigned as a team administrator on CricHQ. Please contact your coordinator to get this set up.
Scoring for U10, U11, U12, U13 and older
Please note: Submitting scores on CricHQ for all Girl's grades and Boys/Mixed U10 and older teams is compulsory!
The match can be scored 'live online' or 'offline'.
If you are choosing to score the match 'online' you will need mobile data to download the match at the ground. Once the match is scored you simply upload the match and it will automatically sync it to the CricHQ cloud.

If you choose to score the match 'offline' you will need to download the match from home via Wifi. Once the match has been downloaded you can live score the match 'offline' and upload it when you get home. Once the match is uploaded it will automatically sync it to the CricHQ cloud.
As a back-up, you can use paper score sheets and upload the full scorecard later. Scoresheets can be found under the downloads tab.
Results must be submitted before 5 pm on the Monday following your game. If a result has not been entered, Auckland Cricket will automatically assign points to the opposition, which will, of course, affect your teams standings.
Where do I download the cricHQ App?
Download the App from
Selecting or adding "ring-ins"
If they are players from another Grafton team you should be able to find them in the Club Members list and add them in.

If they are not current Grafton members then select "Create Player" – which can be fixed up later by contacting the Club Manager.
For further help ......
Find the button on the bottom of any page on the CricHQ website called 'Need some help?' Or,

Visit: https://support.crichq.com/ for FAQs or find the green tab on the bottom right of the window to get your questions answered directly by CricHQ.